TowerWatch #9: A Great Start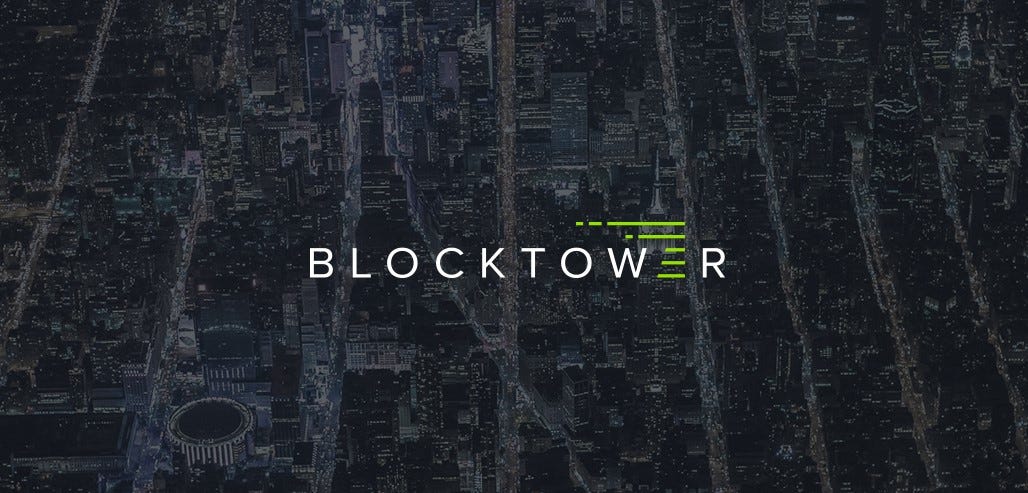 ---
Welcome to the 9th edition of TowerWatch, a weekly newsletter aimed at cutting through the noise of the markets. We have one purpose: be useful.
---

---
Three things you should know:
One: The Halving
Readers of this newsletter are probably familiar with the Bitcoin's block reward halving, which is programmed in the Bitcoin protocol to occur every four years.  The next halving, in May, reduces the block reward earned from mining from 12.5 to 6.25 Bitcoin. The implications of this reduction are a topic of raging debate and speculation. Is the halving priced in? Is it not? Will it lead to increased prices? Is the market efficient? Who knows!
One thing collectively agreed on is it's the largest scheduled supply change in the dynamics of an asset driven largely by supply-demand dynamics. This supply emission change impacts Bitcoin miner profitability and thus the price of Bitcoin. This leads us to two core questions:
What does the halving mean for miners?  
Miners earn less revenue. At current a current Bitcoin price of $9,250, this equates to a reduction from $115,625 to $57,812.50 in revenue per block.

Mining becomes more competitive. The same amount of resources needed (in the form of energy and hardware) to mine a block before the halving earns 50% less post-halving.

Increased competition leads to miners with the economies of scale pushing out or acquiring smaller, less profitable miners. This could lead to centralization.

If Bitcoin price doesn't increase to cover the cost of mining (and their fixed cost remain constant), and thus mining becomes less profitable, miners might move their hash power to other chains. A reduction in hash power reduces the security of the Bitcoin blockchain and is theoretically more susceptible to 51% attacks.
What does the halving mean for investors?
Most cite the price appreciation post the 2016 halving as evidence of likely price appreciation this year. However, the market in 2016 was immature. Many of the current tools and markets traders have available to them today such as custody solutions, derivatives products, and order execution platforms were unavailable during the last halving. The introduction of these tools over the past few years has not only make it easier for sophisticated investors to participate in the market but also allowed them to avoid making directional bets directly in the spot market. Derivatives now allow investors to take directional bets without ever buying the underlying. In pure competition commodity markets were producers (ie Bitcoin miners) set the price, futures and options can disassociate the price with the dynamics of the underlying.  This possibility is explored by Meltem Demirors of CoinShares here.

Investors in the Bitcoin market continuously search for bullish narratives. The halving has been on every asset manager's mind for the past year. Savvy asset managers positioned themselves early for the event and likely won't be buyers on the eve of the event. However, even marginal buying around the event, with little selling by asset managers attempting to ride the bull market, could lead to price appreciation. Price appreciation then drives more retail and institutional interest which can compound even marginal buying around the event.
Bitcoin isn't the only asset to half this year. Bitcoin Cash (BCH), Bitcoin SV (BSV), and Zcash (ZEC) have their scheduled block reward reductions.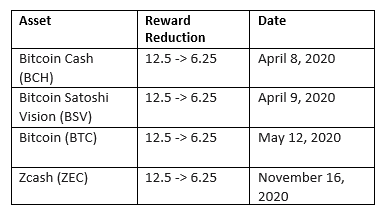 There's lots of great work on the topic of the halving. Here are some interesting ones:
---
Two:
Coronavirus, and Bitcoin
It wouldn't be fair to go this week without mentioning Coronavius, and the potential impact it's had on Bitcoin (So many are claiming it might be good, that there was a facetious column from the Financial Times mocking the concept).
One thing is certain: Coronavirus has shaken the traditional markets. The epidemic itself seems to be getting worse, with many countries (including the United States) banning travelers from China in an attempt to stop the spread. The Chinese markets opened today with a steep 10% decline, but the U.S markets rebounded a bit, as investors eagerly bought the prior sessions dip.
With respect to Bitcoin, it does seem to have slowed down the momentum, but it's hard to parse out the fact that the virus broke up during CNY, a historically quiet time. Bitcoin caught a bid from Asia during the beginning of January, but the back-end of Jan saw muted Asia sessions.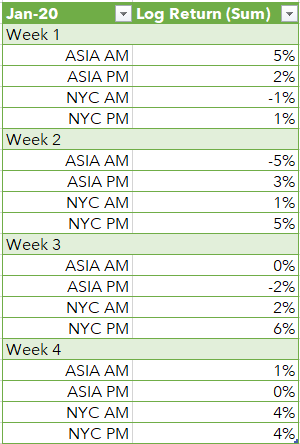 While Bitcoin has certainly performed well in January, it's difficult to attribute this directly to Coronavirus. If anything, one could make the argument that the outbreak took some wind out of Bitcoins sails as Chinese traders took a break from trading. In fact, when the Chinese market opened at 9am today, Bitcoin experienced sharp volatility and then traded down over the course of the day.
Why this matters: Traders in Asia are notoriously momentum driven, and have generally been quicker than the west to catch on to new trends. Asian hours drove the market higher in April (despite Western shorts) and drove the market lower in July (despite Western longs). Understanding the Asian market is key to understanding Bitcoin. One reasonable thesis is that Bitcoin will gain strength as worries from Coronavirus cede, and the east gets back into the swing of things after CNY.
---
Three: Derivatives, Derivatives
In previous editions, I've waxed poetic about the growth of derivatives market, and it's potential impacts on the overall industry (of which there are many). I could say things like "2019 was a seminal year for the market, with many new derivatives exchanges launching, new derivatives-based products hitting the market, and volumes on Bitcoin derivatives growing exponentially", but that's nothing too new. So in lieu of a recap, let's look forward to what will be.
Bitcoin futures have been around for a while, but there are two new types of products hitting the markets are 1) options and 2) altcoin futures.
In the options world, we've seen an explosion in interest. Everyone from institutional players to retail traders are looking to the options market to "enhance" their Bitcoin exposure. We have both retail focused platforms (OKEx, FTX, Deribit) and institutional platforms (CME, Bakkt) offering a variety of different tenors and strikes. Options market volume has increased steadily over the last year. While Deribit continues to rule the roost, other platforms have been steadily growing their options volumes.

The market itself is paying more attention to options flow, with conversations about the players behind large block trades now a weekly occurrence. We also have new insights into the market, as options offer ways to assign implied probabilities to price outcomes, and let the market express opinions on volatility in addition to price.

New products aimed at institutional investors are being launched with the help of options as well. Wave Financial launched a covered call product that generates a yield on BTC (disclosure, I helped launched the vehicle when I was at Wave), and GSR announced a variety of different products in 2019 that took advantage of the options market.
This of course, creates opportunities. As noted previously the sophistication of the products in the cryptocurrency markets is much higher than the individual sophistication of the players in the cryptocurrency markets. There is a lot of options training material popping up and it seems to be voraciously consumed by the retail market — showing that there is large appetite from individuals that want to learn how to trade these new instruments.
What about altcoins? A major narrative if 2019 was increasing Bitcoin dominance, and the decline of altcoins relative to Bitcoin. Many credited this washing out of altcoins to the rise of Bitcoin derivatives and the sizable amount of leverage they give to individual traders, making altcoins a less attractive.
Some background: In 2017, many individuals treated altcoins as a way to gain "leveraged" exposure to Bitcoin — and it worked out well for them as many altcoins outperformed BTC throughout 2017. Unfortunately for those traders, 2018 saw the collapse of the altcoin market with most trading down 90-99%, ruining individuals who held on too long. Altcoins tend to have much lower liquidity and higher slippage on large positions, but people were willing to pay for those out-sized returns in 2017.
The situation is different now. We're seeing rising interest in altcoins after the majority hit 2yr BTC-denominated lows, and Bitcoin dominance is trending down. A factor in this reversal is the introduction of a variety of different altcoin futures on exchanges like FTX and Binance, which have attracted speculators back to the altcoin markets. With these futures, individual traders can once again view altcoins as a leveraged BTC bet — because they can take out those 100x positions.
Why this matters: As the futures market for altcoins grow, it's very possible that altcoins see a renaissance in both price and volume. I'll personally be watching the reaction very closely.
---
Things That Happened:
General
Regulatory
Capital
Markets
---
Market Outlook: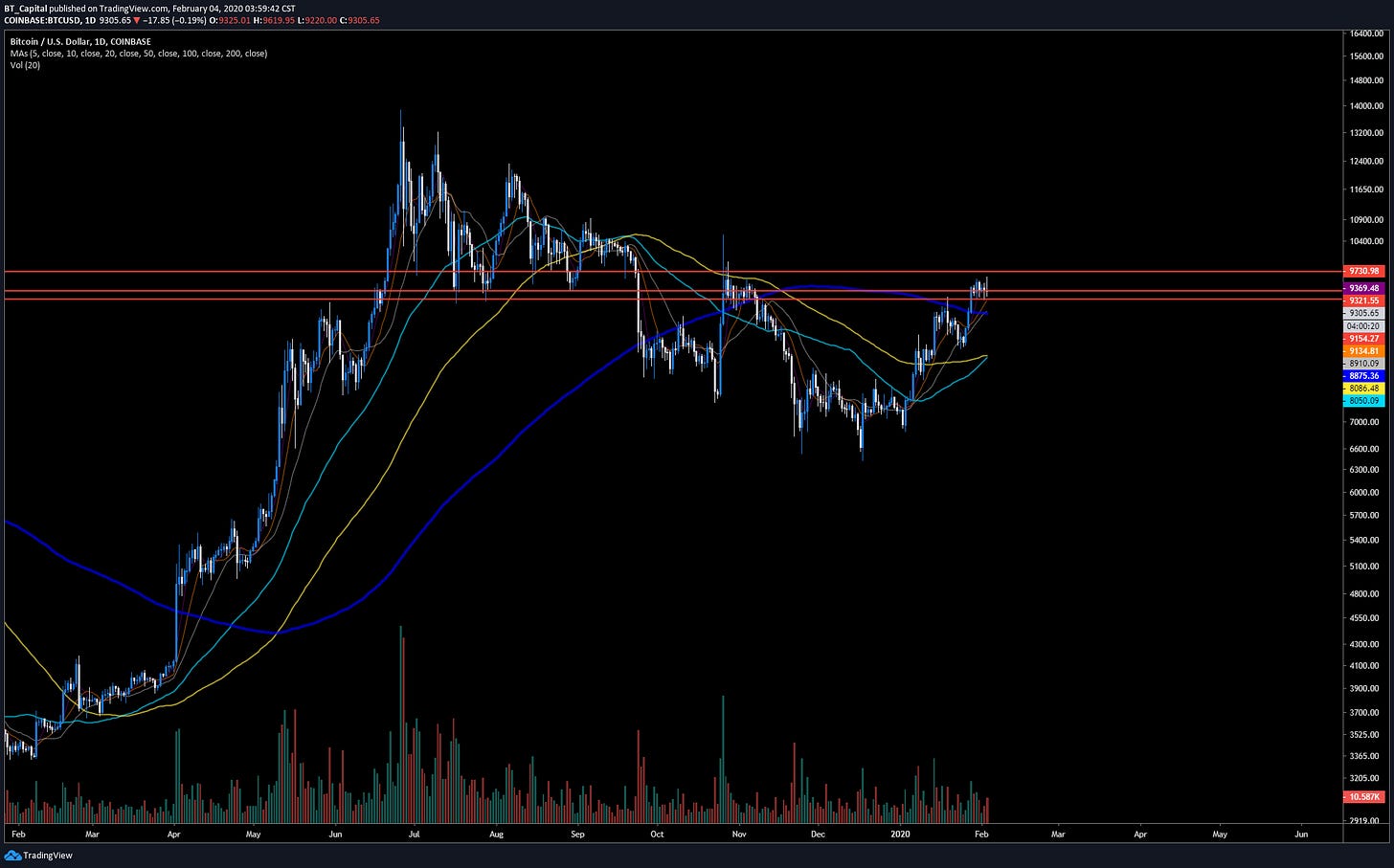 We're off to a great start! January ended up ~30%, Bitcoins best January performance in over 5 years. Midcaps outperformed BTC during January, with most at 2yr lows to begin the year. The last week we saw some rotation to small caps, but nothing major yet.
Bitcoin itself has been trading in range for about 6 days, despite false breaks of the 9.1-9.6 range numerous times. Momentum chasers have got chopped up in this range, and traders now seem to be patiently waiting for price below 9.1k or above 9.6k. When in a ranging environment, the key is to stop selling the bottom, and buying the top.
The sharp wicks in either direction have been especially painful because of the increased amounts of leverage in the system. Open interest on BitMEX climbed above $1b for the first time since mid-2019 — a historic signal of coming volatility. Usually open interest signals that traders have become over-leveraged and the market often seems sharp sell-offs after reaching the $1b mark.
Implied vols are still flat on the month, trending down despite this increase in leveraged positions.

---
---
This letter is the property of BlockTower Capital Advisors LP ("BlockTower") and is circulated for informational and educational purposes only and shall not be copied or reproduced.  The views and opinions expressed herein are those of the author and do not necessarily reflect the views of BlockTower, its affiliates or its employees. This letter aims to summarize certain developments, articles, and/or media mentions with respect to bitcoin and other cryptocurrencies or related topics that the author believes may be of interest. The views expressed in this letter are based on information which is believed to be reliable and has been obtained from sources believed to be reliable, but no representation or warranty is made, expressed or implied, with respect to the fairness, correctness, accuracy, reasonableness, or completeness of the information and opinions. The information contained in this letter is current as of the date indicated at the front of the letter. Neither BlockTower nor the author undertake any responsibility to update the information contained herein.
This letter is not intended to provide, and should not be relied on for, accounting, legal, or tax advice, or investment recommendations. There is no consideration given to the specific investment needs, objectives or tolerances of any of the recipients. Recipients should consult their own advisors, including tax advisors, before making any investment decision. This letter is not an offer to sell or a solicitation of an offer to purchase any security and any such offer or solicitation can only be made pursuant to an offering memorandum and otherwise in accordance with applicable securities laws.
This information is not intended to, and does not relate specifically to any investment strategy or product that BlockTower offers.  However, BlockTower, its affiliates and/or its employees may have a significant financial interest in one or more of the positions, securities, digital-assets, derivatives, projects and/or ventures discussed in this communication, or may in the future undertake such a financial interest without further notice. Additionally, BlockTower and its principals and affiliates may have financial interests in or relationships with some of the entities, service providers and/or publications discussed or otherwise referenced herein. Those responsible for preparing this letter receive compensation based on various factors, including, among other things, the quality of their work and firm revenues.
Every investment involves risk and in volatile or uncertain market conditions, significant variations in the value or return on that investment may occur, including the risk of a complete loss of an investor's entire investment. Analyses and opinions contained herein may be based on assumptions that if altered can change the analyses or opinions expressed. Nothing contained herein shall constitute any representation or warranty as to future performance of any digital asset, financial instrument, credit, currency rate, or other market or economic measure.  Due to various risks and uncertainties, actual events and results may differ materially from those reflected or contemplated in such statements.  The graphs, charts and other visual aids contained herein are provided for informational purposes only. None of these graphs, charts or visual aids can and of themselves be used to make investment decisions. No representation is made that these will assist any person in making investment decisions and no graph, chart or other visual aid can capture all factors and variables required in making such decisions. By accepting this information the recipient agrees and acknowledges that no duty is owed to the recipient by BlockTower or any of its affiliates.  The recipient expressly waives any claims arising out of the delivery of the information or the recipients use thereof or reliance thereon. 
Certain links, including links to other websites which may not be maintained or controlled by BlockTower or its affiliates, are provided in this letter. These links are provided as a convenience and do not imply BlockTower's endorsement, sponsorship, affiliation with or approval of any third-party websites or their content.
BlockTower and its affiliates are not registered or licensed in any capacity with the U.S. Securities and Exchange Commission, U.S. Commodity Futures Trading Commission or any other regulatory body in the United States or globally. Nor is any investment vehicle described herein so registered or licensed. Various investor protections under the laws and regulations administered by the SEC, CFTC or other regulators may not be available.