TowerWatch #11: A Changing Market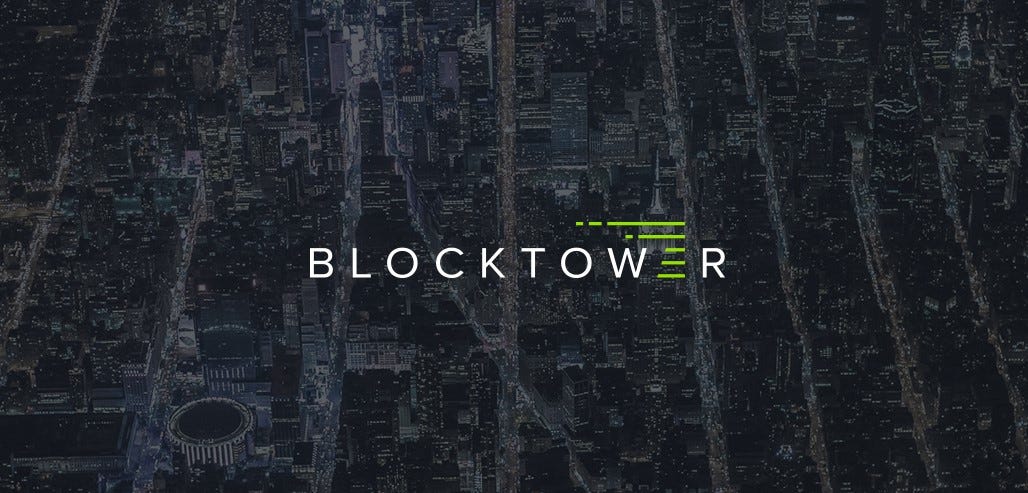 ---
Welcome to the 11th edition of TowerWatch, a newsletter from BlockTower aimed at cutting through the noise of crypto markets. We have one purpose: be useful.
---

---
Two things you should know:
One: Revisiting Bitcoin & Inflation
Ever since the Federal Reserve announced a deluge of financing operations (link here for exhaustive list), the broader financial community has started whispering a long-forgotten word…inflation. The influx of new capital into the system from monetary policy combined with an aggressive fiscal policy has caused many to call for inflation, citing the temporary nature of crisis as a propellant that will allow these extreme measures to introduce inflation.
In past letters, we've written about the possibility that the 20's were heading into an inflationary regime even before all of this.
From the December 8th, 2019 letter:
The rise of China, globalization and the advance of technology have all contributed in an out-sized manner a structural fall in inflation. All three of these themes have contributed to a strong depression of labor costs, which has been one of the drivers of dampened inflation. Globalization allowed the abundant human capital in China to provide for the rest of the world, which has been a major factor in reduced labor costs. In the 1980's, China was just getting integrated with the global economy. Now it is a driving part of the world economy, and much of China's workforce has already been absorbed through globalization.

 Over the last 30 years,  technology has allowed for massive improvements in:

Labor efficiency (accountants vs accounting software)

Logistics (cheaper to ship items) 

Price discovery (Easier for consumers to shop for the lowest price)

Labor availability (Labor on demand -- think Uber / pay per use) 

Going into 2020 we have two of the three major factors coming under fire. China has likely reached peak integration, and globalization is under heavy scrutiny. Combined these point to an inflection point for inflation — the easy ride of cheap money yet low inflation might be over.
Four months later, we now have a system that has ramped up the production of cheap money and a potential catalyst (COVID-19) for the walking back of global supply chains due to national security concerns.
We will be the first to admit the source of inflation can indeed be a mysterious thing. After similar (albeit less aggressive) maneuvers in 2008, everybody and their mother was calling for inflation — but we didn't get it! The lack of demand following the great financial crisis significantly reduced pressure on the CPI measure of inflation. Over the 10 years following the Fed's unprecedented experiment, the economy chugged along just fine. Sure, companies used the easy access to capital to lever up and valuations were high but by and large the economy was healthy, with inflation nowhere to be found.
While Gold performed admirably during the first half of the recovery, by the time we were in growth the stock market was fast outpacing its return. This crisis is of a different vein. What we are currently experiencing is an artificial shutdown of the economy due to an externality, not the failure of a system at large. If the central banks of the world continue to take aggressive measures, it's possible to imagine a scenario where actions end up being larger than necessary. To be clear, this is not a criticism of those actions (as they very well might be needed), just a comment that if the crisis abates sooner than expected, we could be left with excess capital in the system.
Now focusing in on the United States, there are curious forces at play. We have on one hand, massive monetary printing — on the other a strong and consistent demand for the dollar (due to the $60 trillion in dollar based debt help around the world).
A significant portion of international trade (ex-US, even) is settled in USD, and the dollar more generally acts as the world's reserve currency. This has led some to push back on the idea that the United States will experience inflation, because the dollar could indeed hold up in this crisis as people seek access to the strongest economy during a time of duress. The current liquidity being offered by the ECB and other banks may very well end up in the dollar, providing a consistent bid. Currently the world is actually quite short on dollars…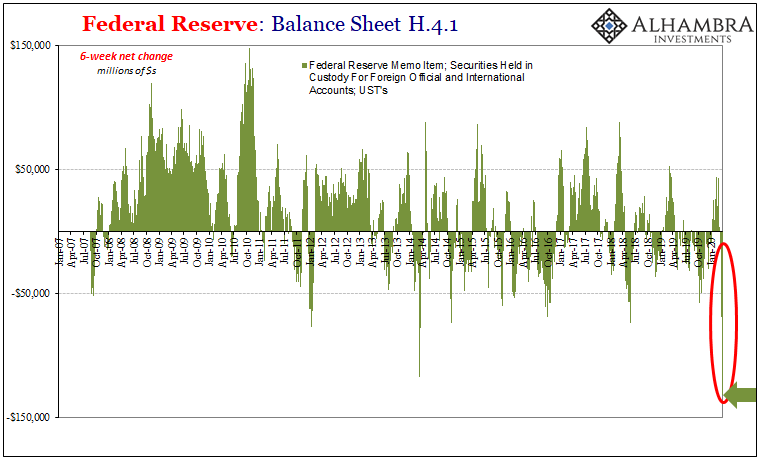 With this in mind, it's not unlikely that the next few years see mild in the US, but a sizable amount of inflation among EM currencies.
So, what does this all have to do with Bitcoin?
The big question worth pondering at this time is which investments will perform well in a reflationary environment accompanied by large liabilities coming due and with significant internal conflict between capitalists and socialists, as well as external conflicts. It is also a good time to ask what will be the next-best currency or storehold of wealth to have when most reserve currency central bankers want to devalue their currencies in a fiat currency system. - Ray Dalio
To summarize — where will individuals place their money to hedge inflation? Many traditional fund managers that enter the Bitcoin world tend to view Bitcoin as a Gold analog, and it's a relatively useful comparison. Both Bitcoin and Gold are likely to do well in a scenario where countries around the world experience inflation. The less faith individuals have in their country's central banking system, the less faith they will have in their currency, and the more they might look for a hedge — Bitcoin.
While there are many different value propositions for Bitcoin, including censorship resistance, seizure resistance and and ease of transfer, the main value that Bitcoin brings in an inflationary regime is its supply cap. When all is said and done, there will only ever be a maximum of 21 million Bitcoin created, less than 0.003 for every individual on the planet (if evenly distributed). Combined with Bitcoin's current moderate acceptance as a currency of exchange, this feature becomes incredibly attractive, especially in a world where the norm is excess supply, and eventual devaluation.
---
Two: Market Liquidity & Price Discovery
Times of turmoil induce confusion, and confusion produces opportunity. These past few weeks have been no different. Both the traditional markets and the cryptocurrency markets have experienced significant anomalies due to structural pressures.
A lot of this is a function of liquidity. As we noted last week, liquidity from the cryptocurrency markets has halved since the major crash on March 12th. Checking in a week later, the situation has improved moderately but exchanges are still exhibiting 2x larger spreads than previously.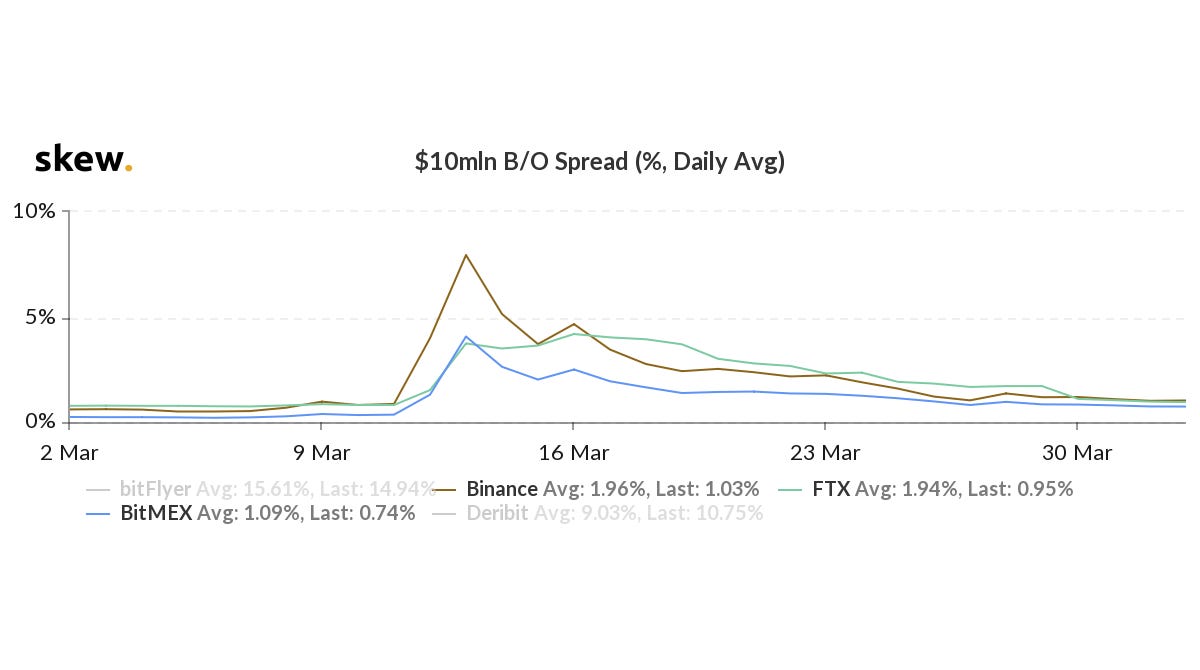 The cryptocurrency community can take solace in the knowledge that this liquidity issue is not endemic to their own markets.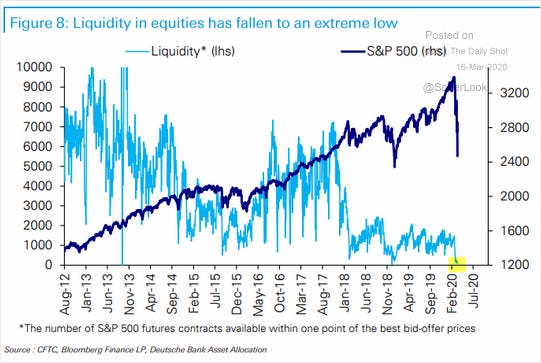 To borrow from a great piece by Logica about the current sell-off:
"In dollar terms, in 2013 it took a $750MM order to "move the market"… today it takes a $1MM order.  Not just less liquid, order of magnitude less liquid."

This establishes the greatest of all possible ironies – "What if this is all market structure and not a fundamental signal?"
What if indeed. While we let that question sit for the traditional markets, it's undoubtably true that forced selling and liquidity issues have caused the cryptocurrency markets an undue amount of a stress. A lot of the excess realized volatility over the last two weeks has been due to thin markets, and the ease with which the market can now get pushed around.
A lot of large players have shifted to using the OTC markets to move size, as the average funds only have access to a small part of the total liquidity in the markets, due to the fractured nature of BTC liquidity across a variety of exchanges.
For the last year, this wasn't a huge issue because major derivatives like BitMEX hosted a large amount of Bitcoin liquidity and was large enough to use as a single source of liquidity while trading. Now, that isn't so true.
Why this matters: The implications of this are fairly large — price discovery has now shifted from BitMEX to a variety of spot exchanges.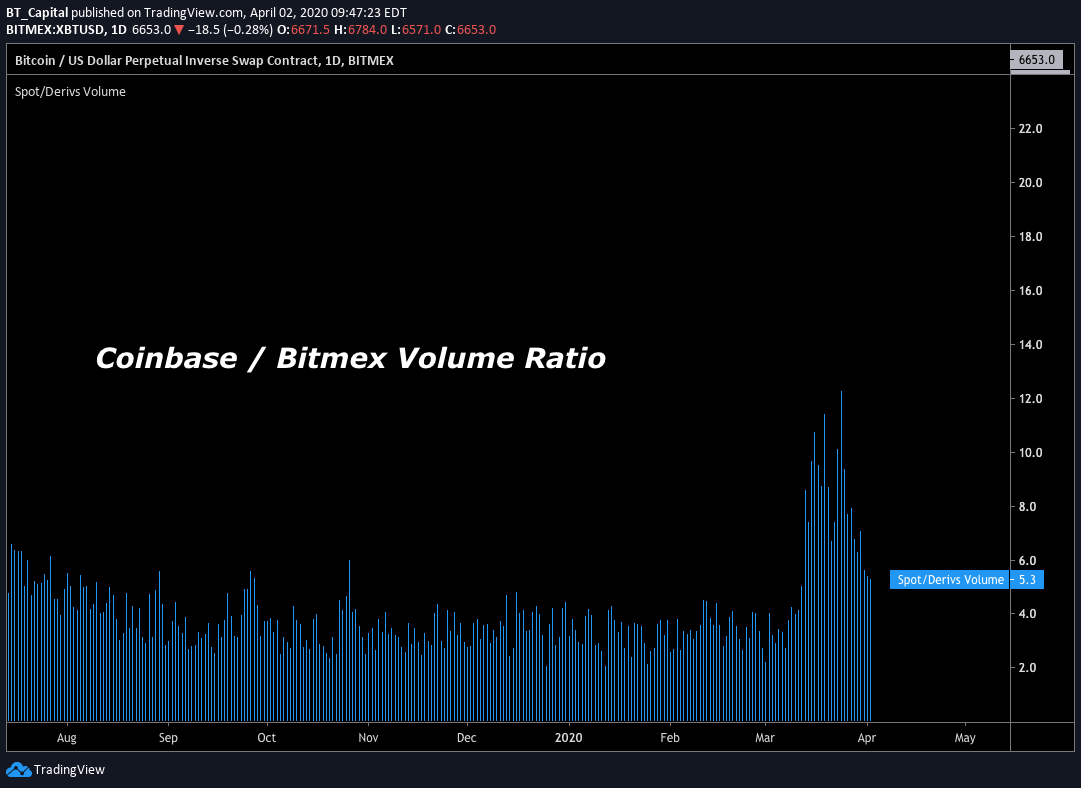 The Coinbase / BitMEX volume ratio has almost doubled over the last month, indicating that spot volumes are growing against their derivative counterparts, and should now command increasing attention as spot venues are now acting as a stronger source of price discovery.
---
Things Happen:
General
Regulatory
Markets
---
Market Outlook: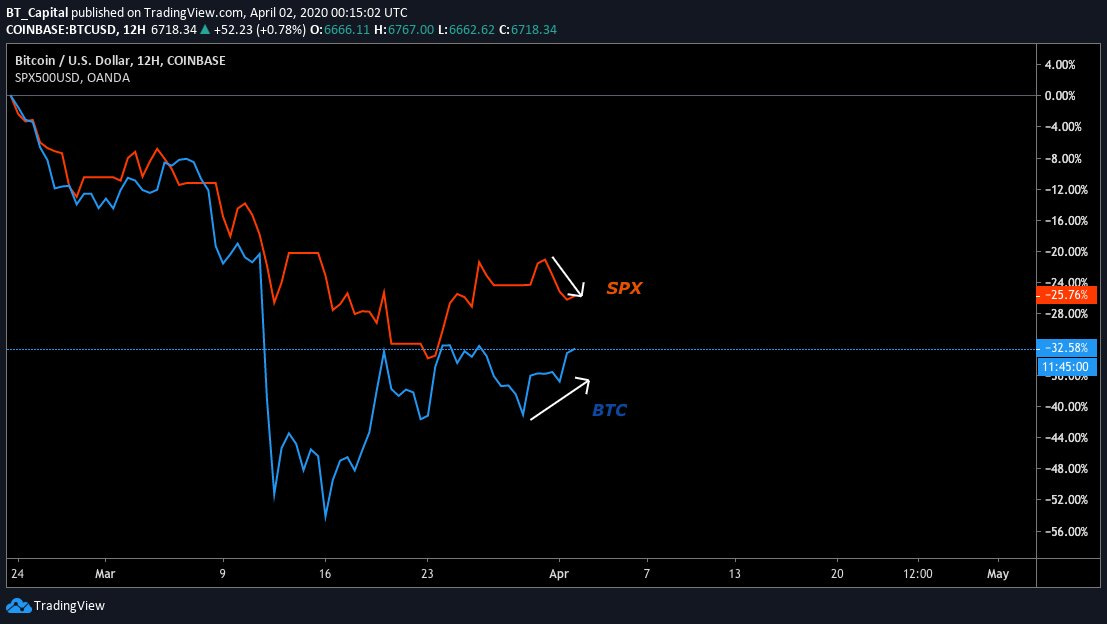 Bitcoin is finally starting to exhibit decoupling from the S&P500. After washing out most leverage from the system, Bitcoin has been trading with high volatility, but within a 15% range between 5800 and 6800, and of late has been ignoring S&P price movements.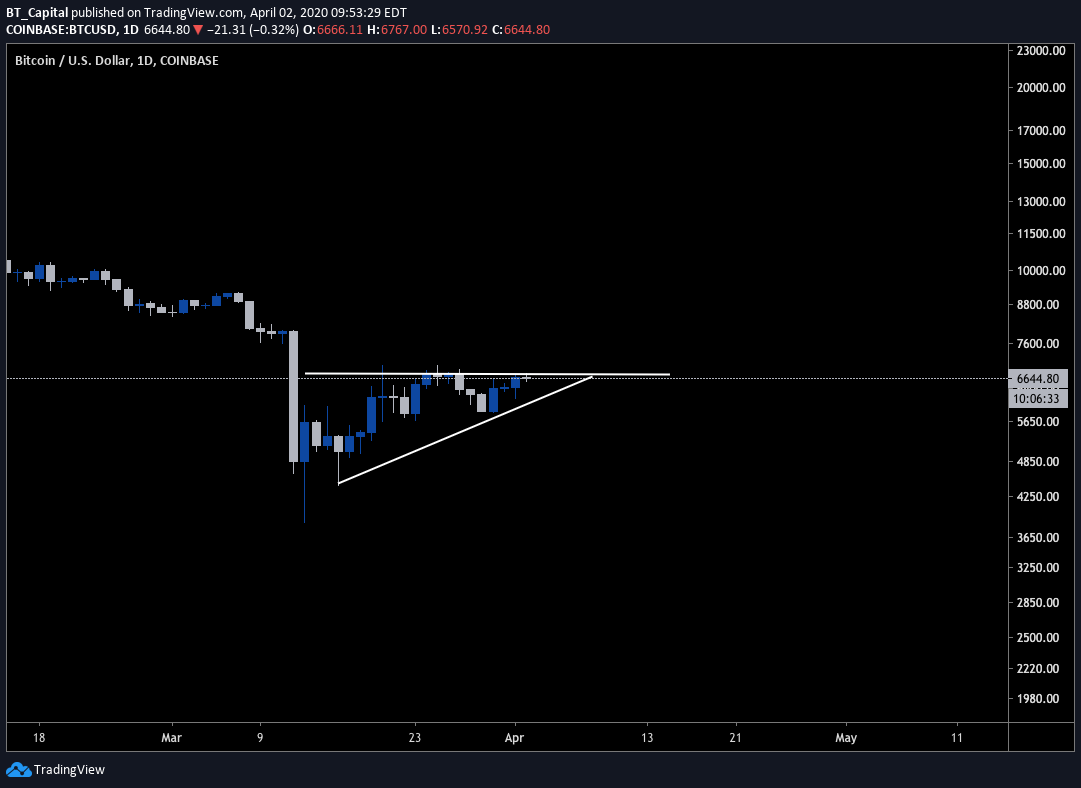 From a technical perspective, the 7000 level is a key psychological barrier that's been acting as a resistance for the last 2 weeks. We're posting higher lows, and are currently close to the top of the range.
Broadly, we are seeing cash enter the ecosystem at a record pace. Coinbase recently noted in a blog post they are seeing a significant increase in key metrics:
In the 48 hours during and immediately following the drop, we saw record-breaking numbers compared to our last 12-month averages:

5x increase in cash and crypto deposits, totalling $1.3B

2x increase in new-user signups

3xincrease in trading users

6xincrease in total traded volume

But beyond just a rush, two things are clear: customers of our retail brokerage were buyers during the drop, and Bitcoin was the clear favorite. Our customers typically buy 60% more than they sell but during the crash this jumped to 67%, taking advantage of market troughs and representing strong demand for crypto assets even during extreme volatility.
The next few weeks look fairly promising for Bitcoin. If the global markets retain a semblance of calm, we may be setting up for an explosive move.
---
---
This letter is the property of BlockTower Capital Advisors LP ("BlockTower") and is circulated for informational and educational purposes only and shall not be copied or reproduced.  The views and opinions expressed herein are those of the author and do not necessarily reflect the views of BlockTower, its affiliates or its employees. This letter aims to summarize certain developments, articles, and/or media mentions with respect to bitcoin and other cryptocurrencies or related topics that the author believes may be of interest. The views expressed in this letter are based on information which is believed to be reliable and has been obtained from sources believed to be reliable, but no representation or warranty is made, expressed or implied, with respect to the fairness, correctness, accuracy, reasonableness, or completeness of the information and opinions. The information contained in this letter is current as of the date indicated at the front of the letter. Neither BlockTower nor the author undertake any responsibility to update the information contained herein.
This letter is not intended to provide, and should not be relied on for, accounting, legal, or tax advice, or investment recommendations. There is no consideration given to the specific investment needs, objectives or tolerances of any of the recipients. Recipients should consult their own advisors, including tax advisors, before making any investment decision. This letter is not an offer to sell or a solicitation of an offer to purchase any security and any such offer or solicitation can only be made pursuant to an offering memorandum and otherwise in accordance with applicable securities laws.
This information is not intended to, and does not relate specifically to any investment strategy or product that BlockTower offers.  However, BlockTower, its affiliates and/or its employees may have a significant financial interest in one or more of the positions, securities, digital-assets, derivatives, projects and/or ventures discussed in this communication, or may in the future undertake such a financial interest without further notice. Additionally, BlockTower and its principals and affiliates may have financial interests in or relationships with some of the entities, service providers and/or publications discussed or otherwise referenced herein. Those responsible for preparing this letter receive compensation based on various factors, including, among other things, the quality of their work and firm revenues.
Every investment involves risk and in volatile or uncertain market conditions, significant variations in the value or return on that investment may occur, including the risk of a complete loss of an investor's entire investment. Analyses and opinions contained herein may be based on assumptions that if altered can change the analyses or opinions expressed. Nothing contained herein shall constitute any representation or warranty as to future performance of any digital asset, financial instrument, credit, currency rate, or other market or economic measure.  Due to various risks and uncertainties, actual events and results may differ materially from those reflected or contemplated in such statements.  The graphs, charts and other visual aids contained herein are provided for informational purposes only. None of these graphs, charts or visual aids can and of themselves be used to make investment decisions. No representation is made that these will assist any person in making investment decisions and no graph, chart or other visual aid can capture all factors and variables required in making such decisions. By accepting this information the recipient agrees and acknowledges that no duty is owed to the recipient by BlockTower or any of its affiliates.  The recipient expressly waives any claims arising out of the delivery of the information or the recipients use thereof or reliance thereon. 
Certain links, including links to other websites which may not be maintained or controlled by BlockTower or its affiliates, are provided in this letter. These links are provided as a convenience and do not imply BlockTower's endorsement, sponsorship, affiliation with or approval of any third-party websites or their content.
BlockTower and its affiliates are not registered or licensed in any capacity with the U.S. Securities and Exchange Commission, U.S. Commodity Futures Trading Commission or any other regulatory body in the United States or globally. Nor is any investment vehicle described herein so registered or licensed. Various investor protections under the laws and regulations administered by the SEC, CFTC or other regulators may not be available.