TowerWatch #5: The Coming Shift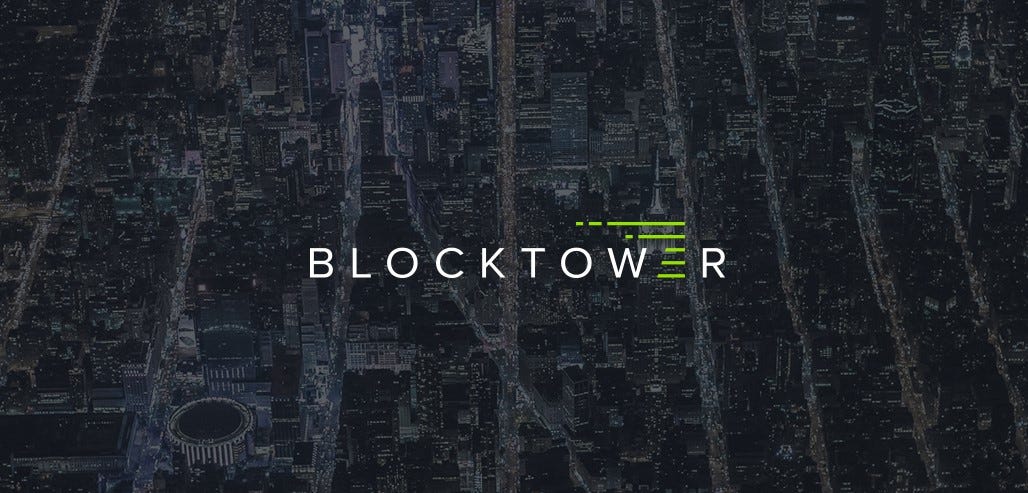 ---
Welcome to the fifth edition of TowerWatch, a weekly newsletter from BlockTower that focuses on cutting through the noise in the cryptomarkets.
We have one purpose: be useful.
---
---
One: The End of an Era
On August 15th 1971, the United States terminated the convertibility of the US Dollar to Gold, unilaterally ending the Bretton Woods system that had been in place since the end of World War II. Since then, most central banks around the world have been issuing money tied to nothing but trust — based on the faith that the government will be able to effectively maintain the value of the currency.
The elimination of the gold standard brought with it worries of inflation. Sure enough the 1970's experienced high inflation (the energy crisis played a large part in this as well). By 1979 many were convinced that inflation was a problem here to stay. Then, something curious happened. In the 1980's, inflation started going down — and to this day it hasn't stopped. For the last 40 years we've experienced a structural and continuous fall in inflation.
Chart: BlockTower, data from the treasury.gov
The rise of China, globalization and the advance of technology have all contributed in an out-sized manner to this structural fall in inflation. All three of these themes have contributed to a strong depression of labor costs, which has been one of the drivers of dampened inflation. Globalization allowed the abundant human capital in China to provide for the rest of the world, which has been a major factor in reduced labor costs. In the 1980's, China was just getting integrated with the global economy. Now it is a driving part of the world economy, and much of China's workforce has already been absorbed through globalization.
Over the last 30 years, technology has allowed for massive improvements in:
Labor efficiency (accountants vs accounting software)

Logistics (cheaper to ship items)

Price discovery (Easier for consumers to shop for the lowest price)

Labor availability (Labor on demand -- think Uber / pay per use)
Going into 2020 we have two of the three major factors coming under fire. China has likely reached peak integration, and globalization is under heavy scrutiny. Combined these point to an inflection point for inflation — the easy ride of cheap money and low inflation might be over.
If this theory holds true, then central banks start to face issues. They can no longer be so loose and free with monetary policy, as there are no outside forces to drive down inflation. Printing money will soon come with more consequences. The population will need to place greater trust in the system if they continue to see their savings whittled away. Unfortunately, the Western world (especially in the U.S) is losing faith in institutions.
Over the last decade, we've seen increasing awareness of structural issues (such as government debt) — which could further dampen public trust in conventional economic systems. As public trust is key to a functioning fiat currency, this could end up leading individuals to explore alternative assets.
We're already seeing this from the younger generation in the United States. A recent Charles Schwalb report on the investment habits of their consumers showed that Millennials are especially susceptible to this line of thinking. More Millenials own Bitcoin through their brokerage accounts than Disney, Microsoft or Netflix — a significant deviation from older generations.
Why this matters: The next decade is shaping up to be very different. Based on fundamental forces, we believe that there will be radically more change over the next ten years than there was over the previous ten. In previous TowerWatch editions, we've talked a lot about where Bitcoin fits into the overall economy, and what people might find Bitcoin useful for. Most of the discussions generally center around Bitcoin as a hedge to unknown governmental failure and uncertainty about continued success of the current economic experiment we're running (fiat money).
Based on the current state of things, it sure looks like there is a lot of uncertainty ahead.
Go deeper: A lot of the thought behind this piece was inspired by Imagine 2030, a fantastic research report on the future put out by Deutsche Bank last week. Read it here.
---
Two: The American Rigs
For most of Bitcoin's history, the computational power for mining Bitcoin has in large part come from Chinese mining farms due to electricity costs. In 2018, a Princeton paper came out with an estimate that 74% of all hashrate is controlled by Chinese managed mining pools — making China the undisputed leader of mining.
Recently, that's been changing. There have been three major developments in the last few months illustrative of the shifting landscape:
Whinstone US Inc and Northern Bitcoin AG merged in November and began the process of opening a 100-acre bitcoin mining farm in the U.S. state of Texas.

Bitmain launched a 50MW (megawatt) cryptocurrency mining farm in Rockdale, Texas.

Layer1 raised $50m from a variety of investors including DCG and Peter Thiel to start a Texas based mining farm.
And just yesterday, per Bloomberg:
A Denver-based company that installs data centers at shale drilling sites to take advantage of excess natural gas supplies says it now has eight operations across the U.S. and plans another 30 in the first half of next year.

The centers are being touted as a way to solve the growing problem of gas flaring, where energy companies burn off excess gas. Flaring has risen to a record in Texas this year amid a lack of pipeline capacity.

Closely held Crusoe Energy Systems Inc. is harnessing some of the surplus gas at source to turn it into electricity, powering the data centers that in turn generate revenue by mining Bitcoin. The company will install 70 units next year, each with a capacity of about 1 megawatt, which would keep about 10 million cubic feet a day of gas from being flared, Chief Executive Officer Chase Lochmiller said in an interview.
Well, that one is pretty cool. Historically the issue with Bitcoin mining in Texas has been the heat, but with recent increases in cooling technology the incredibly cheap electricity prices have made West Texas a hotspot for mining companies.
A lot of this can be attributed to the fact that the United States is slowly becoming less dependent on foreign energy. As of two weeks ago, the United States is now actually a net exporter of oil! A big change from a decade ago, when everyone was worrying about the fact we might be running out out oil…
Thought bubble: This is good for Bitcoin! Having Bitcoin mining confined predominantly to one area of the world is not a good thing. The geographic distribution of hashrate is helpful for reducing collusion, regulatory risk and potential black swan events.
---
Three: A (Scarce) Badge of Honor
Prior to Bitcoin's combination of blockchain architecture and proof-of-work, it was functionally impossible to have digital scarcity at scale. Things on the internet existed to be copied — CTRL-C / CTRL-V, and suddenly you had the same, identical thing twice. Bitcoin however, has to be provably scarce to be effective. Who is going to use money that can be easily created out of thin air? So with the invention of Bitcoin, digital scarcity was introduced to the world. You could now prove that one item online was separate and distinct from another.
The invention of Bitcoin solved the issue, and the introduction of Ethereum helped create a scalable way to mint and distribute provably unique digital items. Now this concept of unique digital items has taken a life of its own, and there is an entire class of items called non-fungible tokens (NFTs).
NFTs have recently been grabbing headlines. A few weeks ago, a platform for the trading and discovery of NFTs (Nifty Gateway) got acquired by the Winklevoss twins. Just last week, Microsoft Azure announced a partnership with Enjin Coin to create provably unique badges of honor for Azure power users (Predictably, Enjin shot up 40% on the news…).
There have been a lot of use cases outlined for NFTs, with individuals claiming that everything from art to gaming will be revolutionized in the coming years. most applications of NFTs are simple to grok. If you're a gamer, you could buy provably unique in-game items to show off your friends. If you're into art, a dealer could issue tokens to certify the authenticity of certain piece, proving you're the owner once acquired. If you're a collector, you may want to prove that your beanie baby is the original beanie baby (or not because you spent way too much money on it in 2003!).
Why this matters: We're seeing general mainstream adoption of NFTs in a way that most other applications of blockchain technology are not enjoying. This hammers home the point that digital scarcity is one of the major applications of blockchain technology — and the two ways it's being expressed is though NFTs and Bitcoin (money).
---
General News:
Regulatory News:
Technical News:
---
Market Outlook:
Bitcoin: We are currently sitting in between the 6900 - 7750 range, after trading as low as 6500 in November. The midpoint of this range is 7325. We are consistently trading above the midpoint which is generally a bullish sign, and are seeing some relatively strong price action recently, with many of the minor price falls being bought up slowly and deliberately.
Funding rates had been negative throughout the end of November, with many people fading any sign of a rally. Over the last week, this has reduced significantly and funding is coming back to its equilibrium state (neither long or shorts are overzealous here).
We are still seeing fairly low volumes, and very low volatility. The futures curve has dampened a bit too, with the BitMEX MAR-2020 only trading at ~6.18% annualized. Despite the lull in action, Bitcoin looks strong to us here.
Overall Market: With the drop-off in Bitcoin volatility alt-coins have been given room to breathe. We're seeing a rotation to "high quality" and relatively "undervalued" alt-coins. Staking coins continue to steal the limelight, with assets like XTZ trading up ~25% on the week.
There are two main narratives to pay attention to right now. The first is the continued growth of staking coins, and the second is the revamping of token economics in smaller projects. Many projects are now starting to realize that increasing yield and introducing velocity sinks into their models can lead to outsized returns. For example, Kyber.Network (KNC) is up ~80% in the 2 weeks after its founder mentioned offhand that they were looking into re-doing the token economics, and Harmony (ONE) traded up ~30% following a blog post about updated economics. Algorand also recently traded up ~50% after a protocol update went through to reduce inflation rates.
As not many people are paying attention to altcoins right now, one may be able to capture value by paying close attention to community discussion and protocol updates.
---
What We're Reading:
Stop Blaming Miners for Falling BTC Prices
In the last TowerWatch edition, we explored what might be causing the recent fall in Bitcoin prices. One of the major theses was that miners were depressing the Bitcoin price, but we came to the conclusion this might be an overstated affect.
Well, lucky for us, Felipe Pereira of Paradigma Capital put out a great piece breaking down why miners were most likely not causing Bitcoin prices to fall.
Tl;dr — Miner flows to exchanges are not highly correlated with price drop-offs
---
---
This letter is the property of BlockTower Capital Advisors LP ("BlockTower") and is circulated for informational and educational purposes only and shall not be copied or reproduced. The views and opinions expressed herein are those of the author and do not necessarily reflect the views of BlockTower, its affiliates or its employees. This letter aims to summarize certain developments, articles, and/or media mentions with respect to bitcoin and other cryptocurrencies or related topics that the author believes may be of interest. The views expressed in this letter are based on information which is believed to be reliable and has been obtained from sources believed to be reliable, but no representation or warranty is made, expressed or implied, with respect to the fairness, correctness, accuracy, reasonableness, or completeness of the information and opinions. The information contained in this letter is current as of the date indicated at the front of the letter. Neither BlockTower nor the author undertake any responsibility to update the information contained herein.
This letter is not intended to provide, and should not be relied on for, accounting, legal, or tax advice, or investment recommendations. There is no consideration given to the specific investment needs, objectives or tolerances of any of the recipients. Recipients should consult their own advisors, including tax advisors, before making any investment decision. This letter is not an offer to sell or a solicitation of an offer to purchase any security and any such offer or solicitation can only be made pursuant to an offering memorandum and otherwise in accordance with applicable securities laws.
This information is not intended to, and does not relate specifically to any investment strategy or product that BlockTower offers. However, BlockTower, its affiliates and/or its employees may have a significant financial interest in one or more of the positions, securities, digital-assets, derivatives, projects and/or ventures discussed in this communication, or may in the future undertake such a financial interest without further notice. Additionally, BlockTower and its principals and affiliates may have financial interests in or relationships with some of the entities, service providers and/or publications discussed or otherwise referenced herein. Those responsible for preparing this letter receive compensation based on various factors, including, among other things, the quality of their work and firm revenues.
Every investment involves risk and in volatile or uncertain market conditions, significant variations in the value or return on that investment may occur, including the risk of a complete loss of an investor's entire investment. Analyses and opinions contained herein may be based on assumptions that if altered can change the analyses or opinions expressed. Nothing contained herein shall constitute any representation or warranty as to future performance of any digital asset, financial instrument, credit, currency rate, or other market or economic measure. Due to various risks and uncertainties, actual events and results may differ materially from those reflected or contemplated in such statements. The graphs, charts and other visual aids contained herein are provided for informational purposes only. None of these graphs, charts or visual aids can and of themselves be used to make investment decisions. No representation is made that these will assist any person in making investment decisions and no graph, chart or other visual aid can capture all factors and variables required in making such decisions. By accepting this information the recipient agrees and acknowledges that no duty is owed to the recipient by BlockTower or any of its affiliates. The recipient expressly waives any claims arising out of the delivery of the information or the recipients use thereof or reliance thereon.
Certain links, including links to other websites which may not be maintained or controlled by BlockTower or its affiliates, are provided in this letter. These links are provided as a convenience and do not imply BlockTower's endorsement, sponsorship, affiliation with or approval of any third-party websites or their content.
BlockTower and its affiliates are not registered or licensed in any capacity with the U.S. Securities and Exchange Commission, U.S. Commodity Futures Trading Commission or any other regulatory body in the United States or globally. Nor is any investment vehicle described herein so registered or licensed. Various investor protections under the laws and regulations administered by the SEC, CFTC or other regulators may not be available.