TowerWatch #8: Thinking about the Future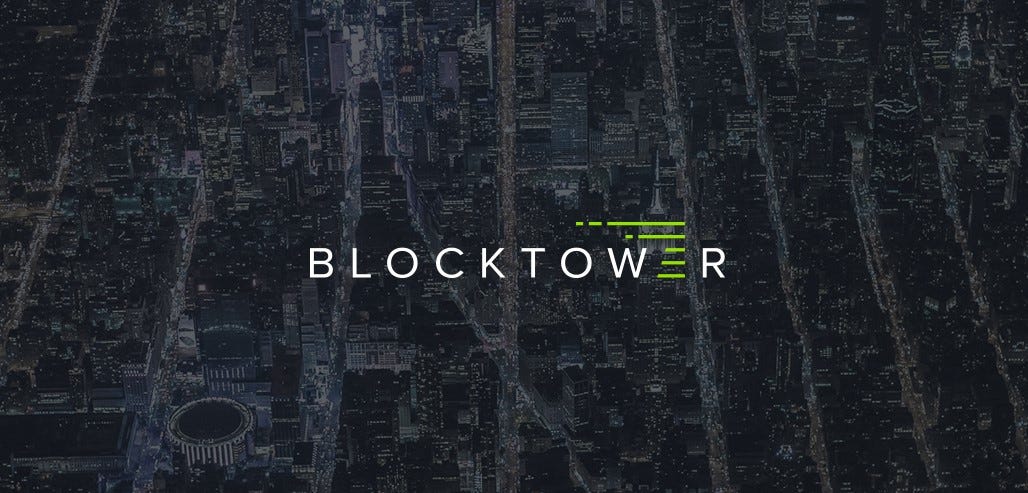 ---
Welcome to the 8th edition of TowerWatch, a weekly newsletter aimed at cutting through the noise of the markets. We have one purpose: be useful.
---

---
Three things you should know:
One: Cash vs Bitcoin
We bring up the idea of Cash vs. Bitcoin this week because of Ray Dalio's recent comments at Davos where he articulated his belief that "cash is trash", and that Bitcoin was unlikely to ever act as a store of value because of its high volatility. Ray's comments (while cogent), miss the larger point about where Bitcoin derives its value. Let's start by looking at cash.
If you've been in the cryptocurrency world for some time, you've likely come across the following chart at some point: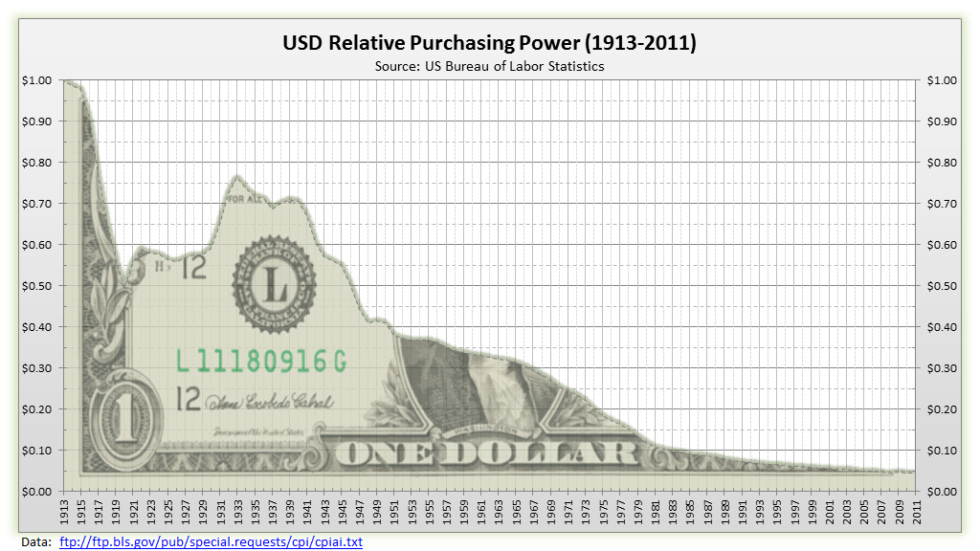 The above is a favorite of many Bitcoin advocates and is often used to illustrate the point that the dollar is a terrible, no good, very bad store of value. How can you hold cash when it's lost over 90% of purchasing power since the early 1900's? The general argument here is that countries tend to devalue fiat currency overtime making it a bad store of value, therefore you should own Bitcoin whose supply is capped forever at 21m Bitcoin. (This does not constitute investment advice or a recommendation to buy/sell.)
This is not the ideal comparison to make. As a store of value, Bitcoin isn't much better. How can you call Bitcoin a store of value when it loses 80% of its value in a single year when it took the dollar 100 years to achieve the same drawdown?
The simple answer here is that owning Bitcoin is not a bet on short-term store of value, but rather is a long-term bet on its ability to become a store of value. Buying Bitcoin today is a speculative bet that the world needs a decentralized, apolitical, truly scarce currency. Really when you're buying Bitcoin, you've made a bet on the future of Bitcoin and it's up to you to decide whether that future pans out. It's like buying Netflix stock today. Currently, Netflix is massively overvalued (83x P/E), but owners of the stock are betting that the world really wants Stranger Things Season 9. So, if you buy Bitcoin, you're betting that the world will benefit from a currency that exists outside of traditional systems, which depends on your view on their stability.
Therefore, a rational individual is unlikely to own Bitcoin as an immediate store of value as its fluctuations are far too great to be considered a safe asset. However, one can very rationally own Bitcoin because of tail risks to the system. With this framework, the value of Bitcoin to the individual is inversely proportional to the faith of that individual in the government to effectively manage his country, or his faith in the banking system to effectively manage finances.
Currently, we see Bitcoin act highly correlated with Gold under extreme situations such as the Cyprus bailout, or during the Iran rocket attacks but trade in a mostly uncorrelated manner the rest of the time. Eventually, Bitcoin may come to resemble "Digital Gold" and trade in line, but for now we are mostly betting on the future.
---
Two:
Bitcoin Cash & Dev Shares
Jiang Zhuoer, CEO of BTC.TOP, the largest mining pool on Bitcoin Cash, announced a proposal on Jan 22nd that would redirect 12.5% of Bitcoin Cash Coinbase block rewards for 6 months to a Hong Kong based corporation that will run the development fund. Zhuoer's plan, similar to the model popularized by ZCash's Founder's Reward, is controversial within the community. One side argues its necessary to bootstrap usage and development on the network and the other that the fee is too high, it is a break from tradition, and will be used as a mechanism to enrich the creators of the fund. The Zcash Community has long struggled with the optics surrounding the decision to allocate such a large portion, 10% of every block reward starting at Genesis, of block-rewards to it.
Bitcoin Cash is proposing to allocate an even higher 12.5% of block reward, but only for 6 months, which based on Zhuoer's estimates at current prices equates to roughly $6m allocated to the fund. Likely the most contentious aspect of the proposal comes from Zhuoer statement: "To ensure participation and include subsidization from the whole pool of SHA-256 mining, miners will orphan BCH blocks that do not follow the plan. This is needed to avoid a tragedy of the commons."
Danger! This could lead to a fork within the Bitcoin Cash if they don't get enough of the miners on-board to support the proposal.  The proposed plan is currently supported by Jihan Wu - Antpool & BTC.com, Haipo Yang – ViaBTC, and Roger Ver – Bitcoin.com in addition to Zhuoer from BTC.TOP. Collectively, they comprise of 34.5% of Bitcoin Cash's hash rate. Even amid controversy, Zhuoer stated that the plan will be executed regardless during the planned infrastructure upgrade to Bitcoin Cash in May of this year.
Why this matters?
---
Three:
Social Trading from TokenSets Launches
Social Trading comes to Ethereum! This week, TokenSets (an Ethereum protocol for encoding tokens with automated trading strategies) announced the launch of social trading.
Social Trading will allow your average crypto speculator to copy the investment strategies of (theoretically) competent traders. In exchange, the trader who created the strategy earns a small performance fees on the capital allocated to the strategy they created.
All trades are trustlessly executed on-chain and on behalf of the investor. These tokens typically rebalance between a core asset like Bitcoin or Ether and a stablecoin like USDC or DAI. The rebalanced assets are not sold on exchange but auctioned by the protocol to arbitragers.
All deposits, custody, rebalances, lending and withdraws are done on-chain making it a cheap, trustless, and globally accessible way to gain expose to (again, theoretically) sophisticated asset management strategies. 
Examples of current strategies include:
Why it matters? Token Sets is a fairly exciting DeFi project because it taps into the core of the cryptocurrency market: easy speculation. An individual investor can now participate in a variety of strategies with the utmost transparency, and can tailor their exposure in exactly the way they like. Retail investors, who may never have heard of technical indicators such as RSI and Moving Averages or Range-bound trading strategies, can now invest in them with little effort.
This is a great example of what decentralized finance can offer. Innovations in decentralized asset management are some of the most important because of the inherent lack of control individuals have with current asset management strategies.
(This is not investment advice and an investment in these strategies may not be suitable for all investors. Readers should consult their own financial advisors before making any investment decisions)
---
Things That Happened:
General
Regulatory
Capital
Markets
---
Market Outlook: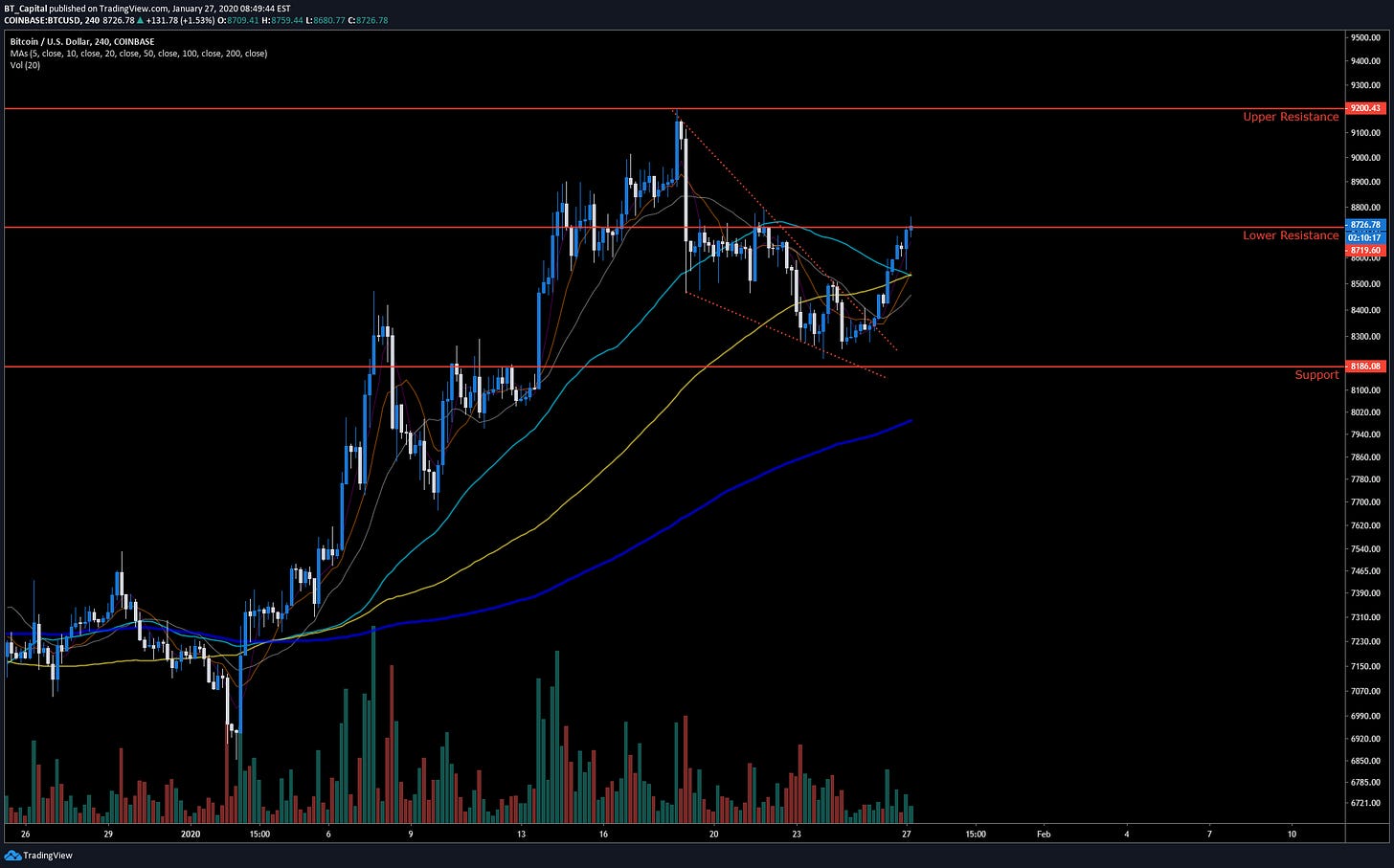 Looking at percent-change, you could be forgiven for assuming that last week was a boring one for Bitcoin price action. Despite ending flat, Bitcoin drew down from a high of $9200 to $8250, before rebounding nicely to $8700 over the weekend. Despite the gyrations, we saw implied vols continuing tick lower, as Bitcoin's realized vol is staying well within the 50-60% annualized range.
Most of Q4, open interest (OI) on BitMEX was between $600m and $800m, a sharp fall-off from summer highs of $1b+. Over the last few weeks, we've seen derivatives traders return to the markets and OI is now around ~$900m. Generally large OIs tend to generate higher than average volatility as traders move around their positioning frequently. If this increase in OI persists, it's likely volatility will come back to the markets.
Overall Market: Bitcoin dominance has been dipping slightly, as mid-sized alts are outperforming through the first month of this year, like the early 2019 dynamic where altcoins outperformed Q1, followed by a major Bitcoin rally in Q2.
The Fear and Greed index dipped down below 50 on the drop to $8300, indicating overall market sentiment was quite negative on the drop down, an oddity considering that we're ~40% off last months lows. This is a potential indicator that this rally is climbing the "wall of worry", a good sign for continued strength in a rally.
---
What We're Reading:
Balaji Srinivasan put together a great piece on how Bitcoin acts as a "flag of technology." It would be a shame to try and put a tl;dr on the piece, so I encourage the reader to click through and read it in it's entirety.
To put a Tl;dr on it anyways, Balaji argues that Bitcoin has become a Schelling point for a variety of technologists around the world, and that Bitcoin transcends cultural and geographic boundaries, similar to Linux.
"If we asked the question of what two random people in the global tech community would coordinate on, we start to find that American, Chinese, and Russian technologists who otherwise don't agree on much tend to agree that Bitcoin is valuable.

For example, Jack Dorsey runs Twitter, Reid Hoffman founded LinkedIn, and Marc Andreessen and Peter Thiel are on the board of Facebook – but all of them are pro-Bitcoin. Similarly, Binance founder Changpeng Zhao and Telegram founder Pavel Durov are Chinese-Canadian and Russian expatriates respectively, and are also pro-Bitcoin. Different countries, different backgrounds, but a shared belief in digital currency."
---
---
This letter is the property of BlockTower Capital Advisors LP ("BlockTower") and is circulated for informational and educational purposes only and shall not be copied or reproduced.  The views and opinions expressed herein are those of the author and do not necessarily reflect the views of BlockTower, its affiliates or its employees. This letter aims to summarize certain developments, articles, and/or media mentions with respect to bitcoin and other cryptocurrencies or related topics that the author believes may be of interest. The views expressed in this letter are based on information which is believed to be reliable and has been obtained from sources believed to be reliable, but no representation or warranty is made, expressed or implied, with respect to the fairness, correctness, accuracy, reasonableness, or completeness of the information and opinions. The information contained in this letter is current as of the date indicated at the front of the letter. Neither BlockTower nor the author undertake any responsibility to update the information contained herein.
This letter is not intended to provide, and should not be relied on for, accounting, legal, or tax advice, or investment recommendations. There is no consideration given to the specific investment needs, objectives or tolerances of any of the recipients. Recipients should consult their own advisors, including tax advisors, before making any investment decision. This letter is not an offer to sell or a solicitation of an offer to purchase any security and any such offer or solicitation can only be made pursuant to an offering memorandum and otherwise in accordance with applicable securities laws.
This information is not intended to, and does not relate specifically to any investment strategy or product that BlockTower offers.  However, BlockTower, its affiliates and/or its employees may have a significant financial interest in one or more of the positions, securities, digital-assets, derivatives, projects and/or ventures discussed in this communication, or may in the future undertake such a financial interest without further notice. Additionally, BlockTower and its principals and affiliates may have financial interests in or relationships with some of the entities, service providers and/or publications discussed or otherwise referenced herein. Those responsible for preparing this letter receive compensation based on various factors, including, among other things, the quality of their work and firm revenues.
Every investment involves risk and in volatile or uncertain market conditions, significant variations in the value or return on that investment may occur, including the risk of a complete loss of an investor's entire investment. Analyses and opinions contained herein may be based on assumptions that if altered can change the analyses or opinions expressed. Nothing contained herein shall constitute any representation or warranty as to future performance of any digital asset, financial instrument, credit, currency rate, or other market or economic measure.  Due to various risks and uncertainties, actual events and results may differ materially from those reflected or contemplated in such statements.  The graphs, charts and other visual aids contained herein are provided for informational purposes only. None of these graphs, charts or visual aids can and of themselves be used to make investment decisions. No representation is made that these will assist any person in making investment decisions and no graph, chart or other visual aid can capture all factors and variables required in making such decisions. By accepting this information the recipient agrees and acknowledges that no duty is owed to the recipient by BlockTower or any of its affiliates.  The recipient expressly waives any claims arising out of the delivery of the information or the recipients use thereof or reliance thereon. 
Certain links, including links to other websites which may not be maintained or controlled by BlockTower or its affiliates, are provided in this letter. These links are provided as a convenience and do not imply BlockTower's endorsement, sponsorship, affiliation with or approval of any third-party websites or their content.
BlockTower and its affiliates are not registered or licensed in any capacity with the U.S. Securities and Exchange Commission, U.S. Commodity Futures Trading Commission or any other regulatory body in the United States or globally. Nor is any investment vehicle described herein so registered or licensed. Various investor protections under the laws and regulations administered by the SEC, CFTC or other regulators may not be available.