TowerWatch #12: Bitcoin, but What Else?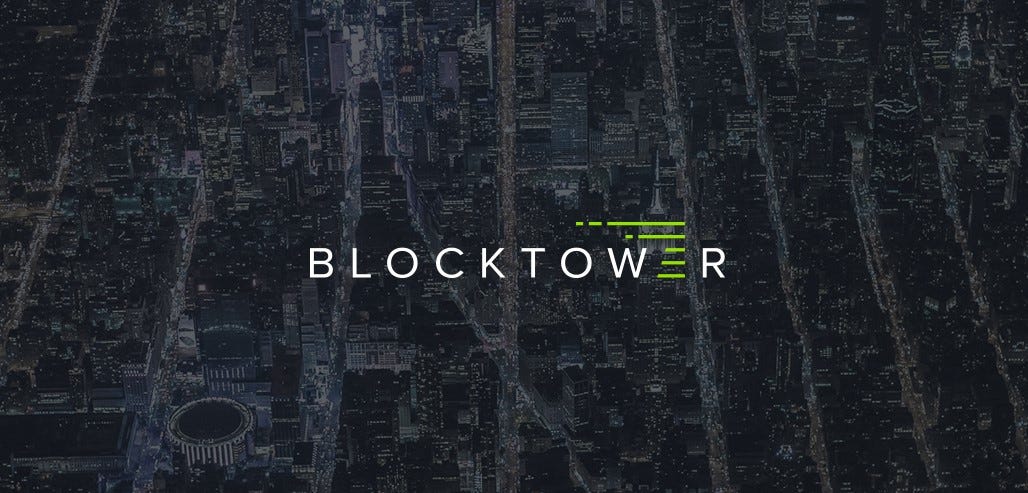 ---
Welcome to the 12th edition of TowerWatch, a newsletter from BlockTower aimed at cutting through the noise of crypto markets. We have one purpose: be useful.
---

---
Two things you should know:
One: Mergers & Acquisitions
Last week, The Block reported that Binance was in the final stages of acquiring the "front page of crypto" CoinMarketCap for up to $400m. Now, as people who spent an unhealthy amount of time on CoinMarketCap in 2017, many of our first reaction was skepticism. Sure they had ads but how could it be that the website was worth $400m?
As it turns out, CoinMarketCap still commands a sizable amount of attention, averaging over 30m visitors a month on the platform (more than Binance, actually).
The key for the valuation of this deal comes from the high value that individuals have to a crypto exchange. Since fees on cryptocurrency exchanges routinely reach 25bps, no matter the size, one customer that ends up trading $1m in volume over the year can generate $2500 dollars for the exchange. Due to relatively high fees and their line of business, cryptocurrency exchanges are extremely adept at extracting value from consumers in a way most other businesses are not. This means that exchanges are likely to pay a premium for a service that will direct attention to their offerings — especially when the service is considered "the front page" of crypto.
As a comparison, Facebook estimates that it generates $8.32 worth of revenue for every user of their platform. For Binance, this would require a user to trade ~$3500 of volume in a year — a small target especially for crypto users who tend to be more active than passive (3.5x turnover of a portfolio of $1k).
In addition to its landing page, CMC offers a large amount of data through its API that is relatively difficult to source elsewhere (namely, market capitalization data). The cryptocurrency data scene is relatively fragmented, and exchanges are the obvious choice to lead acquisitions in this arena. As exchanges continue to expand their services, it's only natural that data provisioning and research become a part of the overall package. It's easy to imagine using an exchange as a primary source of liquidity because they offer best-in-class data and research.
With this in mind, the revenue generating companies in the cryptocurrency world are poised to buy out the ones that attract eyeballs, or a new market. Over the last 2 years, many cash rich businesses have become cash poor as the collective hangover of wealth from 2017 dissipates. Throughout 2018 and 2019 there were businesses that made enough money to weather 2 years of dwindling profits — for them, 2020 represents a make it or break it year.
Another point: It's not just exchanges that have been working on deals though. We are seeing M&A of token projects as well, setting up potential wins for the savvy investor. For example, Steemit was recently bought out by Tron and experienced a sharp increase in price, before the community banded together and forked the chain because of general disputes. It set up an interesting conversation on the efficacy of "buying" blockchains considering that communities must be persuaded, and blockchains can be forked.
As of now, there are now two separate Steemit chains and it's unclear which one will win out but it's become clear that token acquisitions are no easy task and actually introduces some irregularities into the system — how can you effectively integrate another token into your system? We are likely going to see some innovative approaches to this. This first run is just a trial for greater pastures.
Why this matters: Over the next few months, we are highly likely to see additional high profile mergers. If these mergers are between companies with individual tokens, it's likely that there will be some opportunities to take advantage of. On the other hand, companies with large balance sheets should not be afraid to flex that muscle. The cryptocurrency industry is still relatively fragmented and there is lots of opportunity to buy competition to access new markets.
Go deeper: Read the M&A PwC report
---
Two: Web 3.0 Progresses
For those that only hear the highlights about cryptocurrencies (usually Bitcoin, Ethereum and DeFi) it's easy to forget that there are indeed other use cases within the blockchain space quietly gaining traction. One of the major goals of the crypto community is replacing existing Web 2.0 infrastructure with a new Web 3.0 infrastructure that is trustless, decentralized, censorship-resistant, and privacy-preserving. 
Existing web 2.0 infrastructure is composed of a variety of components, protocols, and companies that deliver your favorite applications such as Facebook, Amazon, and Google. Diving into the Amazon website, as an example, we can see the complexity. Code and business logic is hosted and executed on AWS servers, delivered through a complex DNS architecture run by ICANN and domain name providers such as GoDaddy that routes data to Amazon.com, retrieves files using the Hyper-text Transfer Protocol (HTTP as you likely know it), and then is viewed using a web browser, such as Google Chrome or Safari, that puts all these complex pieces together to make it easy for you to panic buy toilet paper during a pandemic.
But what if there was another way? A decentralized and censorship-resistant version of this same infrastructure…
Well, the blockchain sector has been working on this. Use cases are emerging that change the architecture that handles application logic, moving it from AWS servers to smart contracts on platforms such as Ethereum, Algorand, and Tezos.
For data too large to be stored on public blockchains, decentralized storage solutions have emerged. The most used storage solution, the Inter-Planetary File System (IPFS), allows users to upload data to a network of nodes that rent-out their storage space in exchange for payment in the protocol's native cryptocurrency Filecoin. Additionally, IPFS is working to replace HTTPS and implement its IFPS file transfer protocol which will search IPFS nodes for data instead of AWS servers.
For DNS (which resolves the domains that point to a specific server location), projects such as Handshake are taking on the ICANN controlled top-level domain space and replacing it with a decentralized namespace on the Handshake blockchain. Individuals that buy domains on Handshake can point their newly purchased address to data stored in IPFS to host a website using fully decentralized protocols.
All of this new infrastructure is great, but how does the average user access this new decentralized internet? Does Google Chrome resolve IPFS requests, Handshake domains or support Web3 crypto wallets?
Unfortunately major browsers do not currently natively support any of these protocols, although they can be configured to support them. Given most users aren't developers, how will these solutions get adoption? 
This is where Brave, the privacy and crypto-focused web-browser comes in. Brave has differentiated itself by supporting crypto-protocols, while retaining an extremely friendly browser UI. The Brave browser natively supports crypto wallets that allow users to access smart contacts and dApps, resolves IPFS data requests and will likely support decentralized DNS alternatives in the near future.
The take-away: The future of the internet is much closer than an outside observer may realize as all the necessary components are moving out of the concept phase and entering the beta and user testing phase, a critical milestone for these new systems. Look out over the next few months as these products start rolling out in earnest!
---
Things Happen:
General
Technical
Markets
---
Market Outlook: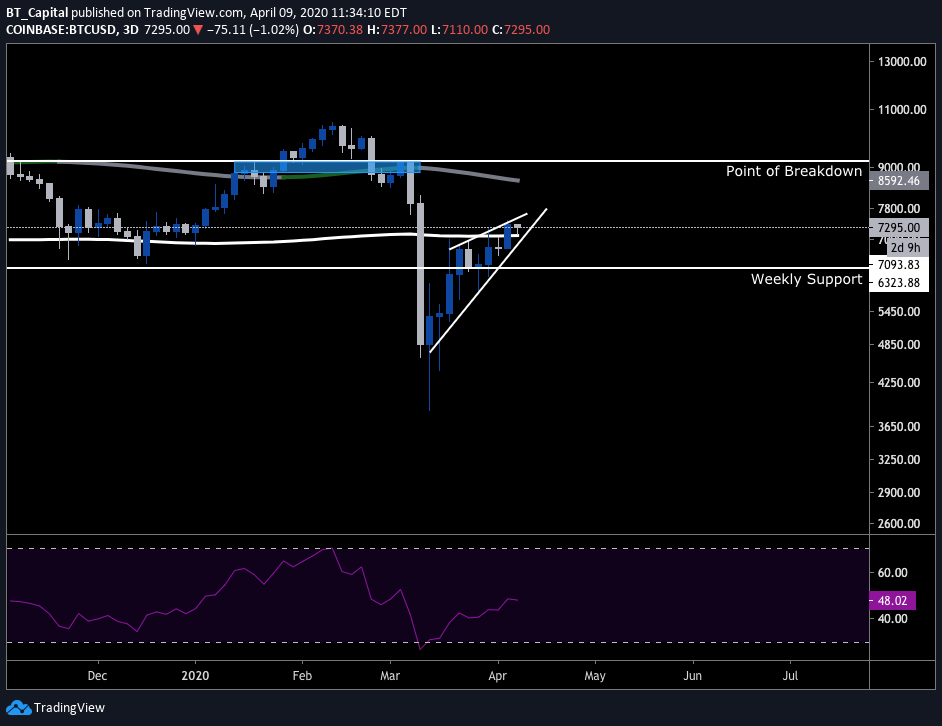 Bitcoin: On the heels of a strong rally to 7k, Bitcoin is spending time locked in the 7.1 - 7.4 range, with realized volatility is coming off nicely. Bitcoin moved an average of 2.8% a day over the last week after gyrating wildly for a few weeks post-Black Thursday. Currently Bitcoin is enjoying a rosier macro background, as almost all risk assets rallied this week (with equities and oil leading the charge) off the back of improving sentiment around COVID-19.
We're coming up on important technical levels for Bitcoin, including the "Point of Breakdown" at 7.7 - 7.9 and the 8.0 - 8.6k range where Bitcoin spend a decent amount of time late 2019 and early 2020.
Market Structure: The derivatives market often offers clues into the psyche of the Bitcoin investors. Four major sources of sentiment are:
Futures curve

Option Skew

Funding Rates

Open Interest
Currently the futures curve is in contango (bullish), option skew is positive (bearish), funding rates have been flat (neutral) and Open Interest is climbing up (rising interest, bullish).
Overall Market: The broader cryptocurrency world caught a bid over the last week, with many majors up more than Bitcoin, suggesting that the market feels comfortable at current Bitcoin levels. Generally alts run when the market feels relative safety and believes that Bitcoin will not fall out from underneath them — because that spells disaster for most altcoins.
As the sentiment shifts positive in the markets, it's important to keep in mind that the narratives underlying this rally are fairly Bitcoin-centric, making altcoins a more dangerous trading vehicle as it's possible they lag Bitcoin and perform more in line with 2019 than 2016/17.
---
---
This letter is the property of BlockTower Capital Advisors LP ("BlockTower") and is circulated for informational and educational purposes only and shall not be copied or reproduced.  The views and opinions expressed herein are those of the author and do not necessarily reflect the views of BlockTower, its affiliates or its employees. This letter aims to summarize certain developments, articles, and/or media mentions with respect to bitcoin and other cryptocurrencies or related topics that the author believes may be of interest. The views expressed in this letter are based on information which is believed to be reliable and has been obtained from sources believed to be reliable, but no representation or warranty is made, expressed or implied, with respect to the fairness, correctness, accuracy, reasonableness, or completeness of the information and opinions. The information contained in this letter is current as of the date indicated at the front of the letter. Neither BlockTower nor the author undertake any responsibility to update the information contained herein.
This letter is not intended to provide, and should not be relied on for, accounting, legal, or tax advice, or investment recommendations. There is no consideration given to the specific investment needs, objectives or tolerances of any of the recipients. Recipients should consult their own advisors, including tax advisors, before making any investment decision. This letter is not an offer to sell or a solicitation of an offer to purchase any security and any such offer or solicitation can only be made pursuant to an offering memorandum and otherwise in accordance with applicable securities laws.
This information is not intended to, and does not relate specifically to any investment strategy or product that BlockTower offers.  However, BlockTower, its affiliates and/or its employees may have a significant financial interest in one or more of the positions, securities, digital-assets, derivatives, projects and/or ventures discussed in this communication, or may in the future undertake such a financial interest without further notice. Additionally, BlockTower and its principals and affiliates may have financial interests in or relationships with some of the entities, service providers and/or publications discussed or otherwise referenced herein. Those responsible for preparing this letter receive compensation based on various factors, including, among other things, the quality of their work and firm revenues.
Every investment involves risk and in volatile or uncertain market conditions, significant variations in the value or return on that investment may occur, including the risk of a complete loss of an investor's entire investment. Analyses and opinions contained herein may be based on assumptions that if altered can change the analyses or opinions expressed. Nothing contained herein shall constitute any representation or warranty as to future performance of any digital asset, financial instrument, credit, currency rate, or other market or economic measure.  Due to various risks and uncertainties, actual events and results may differ materially from those reflected or contemplated in such statements.  The graphs, charts and other visual aids contained herein are provided for informational purposes only. None of these graphs, charts or visual aids can and of themselves be used to make investment decisions. No representation is made that these will assist any person in making investment decisions and no graph, chart or other visual aid can capture all factors and variables required in making such decisions. By accepting this information the recipient agrees and acknowledges that no duty is owed to the recipient by BlockTower or any of its affiliates.  The recipient expressly waives any claims arising out of the delivery of the information or the recipients use thereof or reliance thereon. 
Certain links, including links to other websites which may not be maintained or controlled by BlockTower or its affiliates, are provided in this letter. These links are provided as a convenience and do not imply BlockTower's endorsement, sponsorship, affiliation with or approval of any third-party websites or their content.
BlockTower and its affiliates are not registered or licensed in any capacity with the U.S. Securities and Exchange Commission, U.S. Commodity Futures Trading Commission or any other regulatory body in the United States or globally. Nor is any investment vehicle described herein so registered or licensed. Various investor protections under the laws and regulations administered by the SEC, CFTC or other regulators may not be available.