TowerWatch #2: A Quietly Moving Market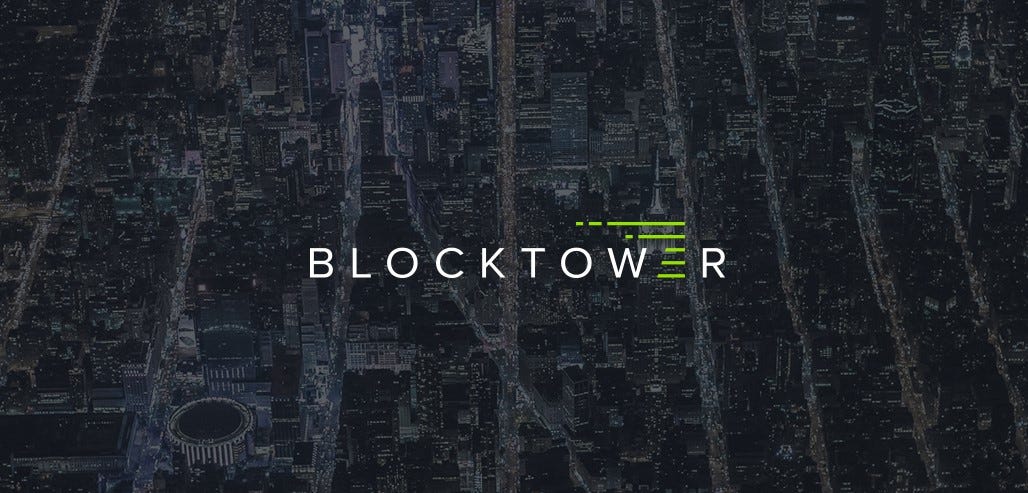 ---
A weekly newsletter from BlockTower cutting through the noise in crypto markets and investing.
We have one purpose: be useful.
---
---
One: Supply & Demand
Let's talk about prices. What goes into them? When you fill your car with gas, and you pay an outrageous $4/gal (I'm scarred from LA prices...) — where did that price come from?
Well, it was probably derived from drilling costs, equipment costs, shipping costs, storage costs, labor costs, the rent of the gas station itself, etc. That's the complicated version. The simple version: it was derived from the supply of gas vs the demand for gas. In fact, pretty much all prices in this world can quantified using two metrics — supply and demand.
Some assets are supply driven, some are demand driven. Often assets shift from being supply driven to being demand driven based on market regime, and understanding what the main driver is can be useful.
Which brings us to Bitcoin. Bitcoin has one of the more unique supply/demand relationships, because of its predictable and regularly scheduled supply shocks. The Bitcoin inflation rate sees periods of gradual descent, followed by a single day of radical decline when block rewards get halved. Thanks to this easy-to-model supply schedule, you can estimate fairly accurately the amount of Bitcoin that will exist at any point in the future, which means that you can also estimate the amount of new demand flow into the Bitcoin ecosystem that's needed to support the price. For example, we can ask whether the market will be able to absorb 333,000 Bitcoin over the next 185 days before the halving (1800 BTC/day * 185). If the answer is no, the market should grind lower.
This discussion is particularly focused on the supply generated by new issuance. There can be a more complex discussion about freed supply from sellers, for another time. For example the movement of Satoshis coins would be a large supply shock not discussed.
As the issuance of the new Bitcoin is known quantity, the more important part of the equation the demand side. Generally with commodities, you should assess shocks to both sides of the equation. When trading corn, you should know potential catalysts for supply changes as well as catalysts for demand. With Bitcoin, you can focus exclusively on the demand shocks, such as an ETF approval, or new online portal for Bitcoin purchases. Debating a supply shock such as the halving is probably better framed by discussing whether demand will increase based on the narrative that a reduction of supply is bullish (rather than the reduction in supply inherently being bullish).
Anyways, last week we got an interesting look at one source of Bitcoin demand from Square through their Q3 investor letter.
Inferred statistics from the letter:
$148m worth of Bitcoin was sold through Square in Q3

Average Bitcoin price in Q3 was $10,392 so an estimated ~14,241 Bitcoin were purchased through Square

174,038 Bitcoin were produced during Q3, meaning Square absorbed ~8.2% of all issued Bitcoin in Q3 was bought by Square users.
Why this matters: Square's retail customers now account for a significant amount of Bitcoin demand, proving out the importance of having simple gateways into crypto for new users. One of the most powerful ways to get buy in is through companies like Square getting involved and tapping into their existing user bases. We've seen a decent amount of this already over the last year, with portals such as SoFi and Bakkt launching. Infrastructure being built out to facilitate demand is a shock of its own kind — and although it seems to be slow, it should not be discounted.
---
Two: Staking is Having a Moment
Earlier this week, Coinbase rolled out support for staking on the Tezos network. Over the next 24 hours, XTZ/USD proceeded to trade up more than 40%, a clear sign that the market was quite excited about this new development. So what's going on here?
The introduction of staking on a retail platform could dramatically increase staking participation. The Coinbase announcement seems at-the-margin bullish for staking coins. Currently it's actually quite difficult for a non-tech savvy individual to go through the steps of staking, limiting the potential user base.
If Coinbase continues to add staking functionality for it's retail platform, it's not too much of a leap to say those coins may get decent flow. Who doesn't like passive income, after all. So it makes sense for staking coins to experience a bump, as retail is more likely to opt for an asset that delivers consistent income vs one that doesn't.
Staking coins outperformed on the announcement.
Cosmos (ATOM/USD) has traded up 12% since the news broke that Coinbase was supporting Tezos staking.

Decred (DCR/USD) has also added ~10% on the news.
There's a potential narrative forming here. We're also seeing PoS progress from Ethereum. So all in, staking projects look like they're establishing decent momentum.
Side note: The Coinbase announcement is emblematic of a larger trend in the cryptocurrency market, namely the consolidation of services. Large companies such as Binance and Coinbase are now focused on delivered a breadth of services to their customers, so that everything cryptocurrency related can be done from the comfort of a singular website. Over the coming months, it wouldn't be too surprising to see much larger staking asset coverage from Coinbase, as they try to capture the whole market.
With today's launch, Coinbase is offering an easy, secure way for anyone to actively participate in the Tezos network. While it's possible to stake Tezos on your own or via a delegated staking service, it can be confusing, complicated, and even risky with regard to the security of your staked Tezos. We're changing that with staking rewards on Coinbase.

With Coinbase staking rewards:

You can begin earning rewards on your crypto. The current estimated annual return for Tezos staking on Coinbase is ~5%. You'll see your pending rewards increase in real-time in the app, and once your initial holding period completes (35–40 days), you'll receive rewards in your account every 3 days.

You will always maintain control. Your Tezos always stays in your wallet; you just earn rewards while keeping your crypto safely on Coinbase. You can opt out any time you want.
---
Three: Hong Kong Regulator Clarifies Exchange Rules
In a step forward for digital asset trading, the Hong Kong Securities and Futures Commission (SFC) announced a new licensing mechanism for digital asset trading platforms.
The SFC met with virtual asset trading platform operators to discuss their businesses and explain the SFC's regulatory expectations. Having examined in depth the technical, operational and other aspects of virtual asset trading, the SFC has concluded that some types of centralised platforms trading security and non-security tokens would be suitable to be regulated under the framework set out in this position paper.

The SFC has therefore adopted a set of robust regulatory standards for virtual asset trading platforms which are comparable to those applicable to licensed securities brokers and automated trading venues. These standards seek to address key regulatory concerns related to the safe custody of assets, know-your-client requirements, antimoney laundering and counter-financing of terrorism, market manipulation, accounting and auditing, risk management, conflicts of interest and the acceptance of virtual assets for trading. The SFC will only grant a licence to those platforms which are capable of meeting the expected standards.
As per Reuters:
The new rules, under which exchanges can apply to be regulated from Wednesday, draw on the standards the SFC expects for conventional securities brokers.

They stipulate that an exchange that wants to be licensed must provide services to professional investors only, have an insurance policy to protect clients in case assets are lost or stolen, and use an external market surveillance mechanism.

Cryptocurrency exchanges do not need an SFC license to operate provided they do not trade any products defined as a security. Bitcoin for example is not a security, Alder said.
Main point: Note that the SFC hasn't ruled much on the status of individual tokens, so it's unclear how much of an effect it will have on exchanges that purely trade cryptocurrencies.
According to the document, cryptocurrency exchanges do not need an SFC license to operate provided they do not trade any products defined as a security. Bitcoin for example is not a security as defined by the SFC, so this seems like an announcement that could precede the rise of regulated security token exchanges, rather than cryptocurrency specific exchanges.
---
General News:
Capital Markets:
Technical News:
---
Market Outlook:
General Outlook: The market is quietly moving…
We finally broke out of the 9000 - 9400 range this week, trading down as low at 8700 on Nov 8th. After trading down those $500, funding rates went flat indicating that few longs were being taking out despite being at a significant support level (see above chart).
Our time outside of the range was relatively short, and we quickly rebounded to 9200 in a quick short squeeze before settling at 9050 at the time of writing.
Implied volatility and realized volatility are continuing to cruise down, both touching lows not seen since April 2019. We're in a quite uncertain period for Bitcoin price, but now that we've sweeped more longs out by taking liquidity through 8700, I'm more bullish than I was in the last edition of TowerWatch.
Key Levels:
Resistance: 9400, 9700

Support: 9100, 8900, 8600
Overall Market: As Bitcoin has slowed down, we've seen specific altcoins outperform as correlations continue to break down. Staking coins such as Tezos, Decred, and Cosmos have seen growth, and individual coins such as Ethereum, Litcoin and VeChain have seen out performance over Bitcoin as well.
Stellar was a standout too, lifting almost 20% after the foundation announced they would be burning 50% of circulating supply.

Theoretically, burning half the supply should lead to a 100% increase in price. It's clear that markets aren't perfectly efficient, but a 20% rise is on the low end of returns. According to Messari data, they only burned 35% of Year 2050 supply, which may explain some of the markets hesitancy (but not all of it). If Stellar had continued to outperform, it may have caused a cascade effect where other tokens with large, concentrated treasuries would also burn.

The relative under performance of Stellar makes this less likely, but token burns still remain a useful lever for many cryptocurrency projects.
More generally, the last two weeks have seen a consistent decline in BTC.D, falling down from a local top at 70.84%, to 68.74% at the time of writing. In a weird twist, BTC.D actually went up after the fall from 9200 —> 8700, which was an indication of market strength. If altcoins fail to follow Bitcoin down then one may be able to assume the market is stronger than it appears from pure Bitcoin price action.
One interesting asset to pay attention to is MakerDAO, given that a major protocol upgrade (Multi Collateral Dai) is coming on November 18th. Basic Attention Token will also be part of the protocol upgrade, and the Ethereum community seems generally excited about the announcement.
---
What We're Reading:
One of the most enduring questions in the crypto world concerns the role of Bitcoin in the world. Since its creation in 2008, people have argued over what exactly bitcoin is. Is it for cheap payments? Is it a store of value? Is it for privacy? It's good to consistently remind ourselves of the historical narratives, and the current ones.
Over time, our definitions of what Bitcoin should be used for have changed. I've included an excerpt from Nic Carter's well written article, where he goes over what the 7 main definitions of Bitcoin are, and how they have changed over time.
E-cash proof of concept: the first major narrative, this was the general view of Bitcoin in its earliest days. Back then, cypherpunks and cryptographers were still appraising the nascent project and determining whether it worked, if at all. Since all prior e-cash schemes had failed, it took a while for people to be convinced of its technical and economic viability and move on to more expansive conceptions of the protocol.

Cheap p2p payments network: an extremely popular and pervasive narrative. Some believe this is what Satoshi had in mind — a straightforward currency for peer to peer internet transactions. A decentralized Paypal or Venmo, if you will. Since microtransactions are a key component of internet commerce, proponents of this view generally believe that low fees and convenience are an essential characteristic of such a currency.

Censorship-resistant digital gold: the counterpoint to the p2p payments narrative, this is the view that Bitcoin primarily represents an untamperable, uninflatable, largely unseizable, intergenerational wealth store which cannot be interfered with by banks or the State. Proponents of this view de-emphasize Bitcoin's use for everyday transactions, arguing that security, predictability, and conservatism in development are more important. We're callously lumping in sound money believers into this camp.

Private and anonymous darknet currency: the view that Bitcoin is useful for anonymous online transactions, in particular to facilitate black market online commerce. This is not necessarily mutually exclusive with the e-gold position, as many proponents of the digital gold view believe that fungibility and privacy are important attributes. This was a popular narrative before the chain analysis companies had success de-anonymizing Bitcoin users.

Reserve currency for the cryptocurrency industry: this is the view that Bitcoin serves an essential purpose as the native currency for the cryptocurrency/cryptoasset industry more generally. This is a view espoused by traders for whom BTC is the numeraire — the currency in which the prices of other assets are quoted. Additionally, traders, businesses, and distributed networks that hold reserves in BTC de-facto endorse this view.

Programmable shared database: this is a slightly more niche view, and generally involves the understanding that Bitcoin can embed arbitrary data, not just currency transactions. Individuals holding this view tend to see Bitcoin as a programmable, expressive protocol, which can facilitate broader use-cases. In 2015–16, it was popular to express the notion that Bitcoin would eventually absorb a diverse set of functionalities through sidechains. Projects like Namecoin, Blockstack, DeOS, Rootstock, and some of the timestamping services rely on this view of the protocol.

Uncorrelated financial asset: this is a view of Bitcoin that treats it strictly like a financial asset and finds its most important feature to be its return distribution. In particular, its tendency to have a low or nonexistent correlation to all manner of indexes, currencies, or commodities makes it an attractive portfolio diversifier. Proponents of the view are generally not too concerned about owning spot Bitcoin; they are interested in exposure to the asset. Put another way, they want to buy Bitcoin-flavored risk, not necessarily Bitcoin itself. As Bitcoin has become more financialized, this conception has gained steam.
---
---
This letter is the property of BlockTower Capital Advisors LP ("BlockTower") and is circulated for informational and educational purposes only and shall not be copied or reproduced. The views and opinions expressed herein are those of the author and do not necessarily reflect the views of BlockTower, its affiliates or its employees. This letter aims to summarize certain developments, articles, and/or media mentions with respect to bitcoin and other cryptocurrencies or related topics that the author believes may be of interest. The views expressed in this letter are based on information which is believed to be reliable and has been obtained from sources believed to be reliable, but no representation or warranty is made, expressed or implied, with respect to the fairness, correctness, accuracy, reasonableness, or completeness of the information and opinions. The information contained in this letter is current as of the date indicated at the front of the letter. Neither BlockTower nor the author undertake any responsibility to update the information contained herein.
This letter is not intended to provide, and should not be relied on for, accounting, legal, or tax advice, or investment recommendations. There is no consideration given to the specific investment needs, objectives or tolerances of any of the recipients. Recipients should consult their own advisors, including tax advisors, before making any investment decision. This letter is not an offer to sell or a solicitation of an offer to purchase any security and any such offer or solicitation can only be made pursuant to an offering memorandum and otherwise in accordance with applicable securities laws.
This information is not intended to, and does not relate specifically to any investment strategy or product that BlockTower offers. However, BlockTower, its affiliates and/or its employees may have a significant financial interest in one or more of the positions, securities, digital-assets, derivatives, projects and/or ventures discussed in this communication, or may in the future undertake such a financial interest without further notice. Additionally, BlockTower and its principals and affiliates may have financial interests in or relationships with some of the entities, service providers and/or publications discussed or otherwise referenced herein. Those responsible for preparing this letter receive compensation based on various factors, including, among other things, the quality of their work and firm revenues.
Every investment involves risk and in volatile or uncertain market conditions, significant variations in the value or return on that investment may occur, including the risk of a complete loss of an investor's entire investment. Analyses and opinions contained herein may be based on assumptions that if altered can change the analyses or opinions expressed. Nothing contained herein shall constitute any representation or warranty as to future performance of any digital asset, financial instrument, credit, currency rate, or other market or economic measure. Due to various risks and uncertainties, actual events and results may differ materially from those reflected or contemplated in such statements. The graphs, charts and other visual aids contained herein are provided for informational purposes only. None of these graphs, charts or visual aids can and of themselves be used to make investment decisions. No representation is made that these will assist any person in making investment decisions and no graph, chart or other visual aid can capture all factors and variables required in making such decisions. By accepting this information the recipient agrees and acknowledges that no duty is owed to the recipient by BlockTower or any of its affiliates. The recipient expressly waives any claims arising out of the delivery of the information or the recipients use thereof or reliance thereon.
Certain links, including links to other websites which may not be maintained or controlled by BlockTower or its affiliates, are provided in this letter. These links are provided as a convenience and do not imply BlockTower's endorsement, sponsorship, affiliation with or approval of any third-party websites or their content.
BlockTower and its affiliates are not registered or licensed in any capacity with the U.S. Securities and Exchange Commission, U.S. Commodity Futures Trading Commission or any other regulatory body in the United States or globally. Nor is any investment vehicle described herein so registered or licensed. Various investor protections under the laws and regulations administered by the SEC, CFTC or other regulators may not be available.